Highlights
Farm trip One day tour to Le Mat Village
7h30-8h00 : Pick you up at your hotel.Departure to Le Mat Village,the beautiful sceneries of the rural areas,on the way stop to see rural market and buy some food for cooking lunch.
9h45 :Upon arrival Le Mat Village,having a cup of tea with the local family.have short rest.
10h :Biking around the country lanes, See some old traditional houses,enjoying the peaceful lifestyle of the local people.This is a great way to interact, explore the Rural Vietnamese Architecture and traditional Culture.Return the local family for cooking class and having lunch together.
13h00 : Wearing farmer uniform cloth,.conical hat,sun-helmet ,boot…etc Start farming work, plough and raking with buffalo on the rice field ,Riding water buffalo ,scooping water,cultivating, transplant rice…ectListen to the farmer explain the process of the wet rice ,Learning how to do and look after them.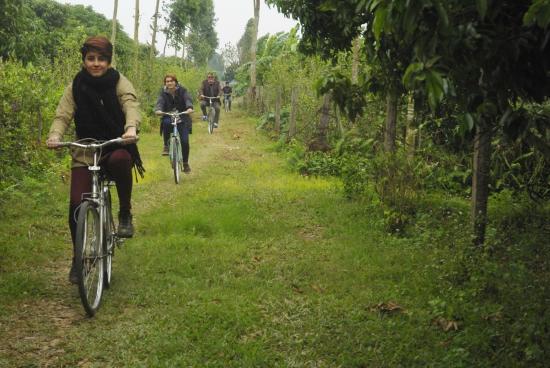 14h15 :The bus will then take you to see the Khuc Thua Du Temple.Khuc Thua Du began to rule the country when the Tang Dynasty collapsed, and is considered the ruler who marked the beginning of the independent Vietnam,this is an old and sanctity temple in the north of Vietnam
15h 30:This is a great time enjoy a sampan-boat trip around the stork island located in Chi Lang Nam commune.The island located in the middle of broad lake with ten thousands of stork and herons residing and nesting.the stork island is home to 20.000 storks and more than 7000 herons of various kinds and precious birds such as pelicans and teal residing together.
Tour Included:
*Welcome drink
*Air-conditioned transportation
* Bicycle
*Tour guide
*Farming cloth ,farmer tools. boat trip ,entrance fee….
Tour Excluded
*Personal expensive
* Water puppet show
* Tip for tour guide and driver
*Drinks
*Tax (VAT)
Duration:

4 days & 3 nights

Countries:

Date time:

August 30, 2016

Price:

900 USD

Starting Point:

Ending Point: